From the bustle of city life, to the pastoral views of the countryside, Nicaragua offers a variety of living options to fit your lifestyle preference.
For people who like the stimulation and consumer-comforts of urban life, the capital city of Managua is the closest thing Nicaragua has to a big city. While it is a far cry from the buzz of a New York or London, Managua has most of the basic ingredients of a city: fully stocked grocery stores, world class medical care, malls, multiplex movie theaters, banks, pleasant eateries, cultural activities, sports teams, universities and night clubs.
Located on the Central Pacific, Managua is the center of commercial and political activity, and is only a short jaunt from beaches and volcanoes. The city is home to 1.2 million, mostly impoverished people. More than a quarter of the country's population lives in the capital. Two out of three capital dwellers live below the poverty line.
Managua has been wrought by natural disasters over the years. In 1972 a 6.2-magnitude earthquake leveled the city, killing thousands. After the diastrophism, the second major temblor to rock the city in 50 years, the downtown center was never rebuilt. The result is a sprawling city with no proper downtown area to speak of.
The city now seems to be centered around the Metrocentro shopping mall (which just happens to be the geographical center of the city) and several nearby hotels along the Carretera Masaya, the main highway that connects Managua to Masaya and Granada.
Like much of Nicaragua – and Central America – not all of Managua's streets are named or numbered, and most directions are given in terms of landmarks, some of which no longer exist. The system takes some getting used to, but it is not unmanageable. The mostly bricked streets are wide and generally navigable. One of the benefits of a non centralized capital is that traffic is dispersed somewhat evenly throughout the city, and bottlenecks and infuriating traffic jams are not usually a problem.
Managua has its share of banks, post office and currier services, hotels for all budgets, first-class restaurants and other basic services. Foreigners will be happy to learn that the brand-new Vivian Pellas Hospital, considered the best in Central America, was opened in southern Managua in 2004.
There are also universities, foreign language schools, museums, the Denis Martínez National Baseball Stadium, a large central market and a new outdoor acoustical music venue.
The Zona Rosa, on the Carretera Masaya on the south side of town, is the in place to get your party on, with some of the country's best discos, bars and casinos.
The city is currently undergoing a construction boom with new malls, office buildings, overpasses and residential neighborhoods going in all the time.
Managua is also home to most of the familiar fast-food chains found in the United States, including McDonalds, Pizza Hut, Subway, Dominos and Burger King.
Managua International Airport is located on the northeast side of town.
Due to Managua's proximity to other, more-attractive colonial cities, most expatriates chose to live elsewhere and commute into the city when they have to.
The colonial city of Granada, a one-hour drive from the capital, is by far the most popular place for foreigners – both North American and European – to live.
With a population of slightly more than 155,000 people – including some 1,000 foreign residents – Granada is a city that feels like a village. Everyone knows everything about everyone else, and what they don't know they invent.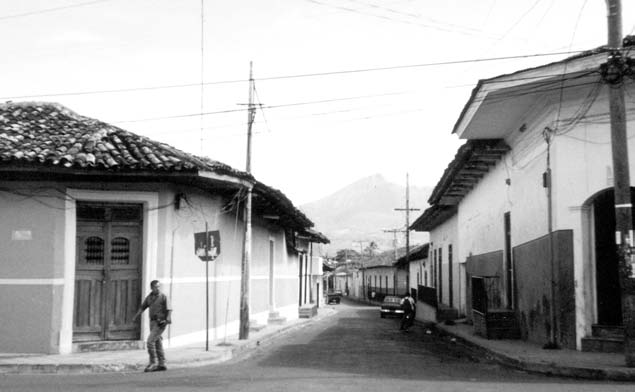 Colonial Style Houses Give Granada its Charm
This city, rich with history and tradition, is a foreign investor's dream (or nightmare as the case can be). In the mid to late '90s, it was possible to purchase a colonial fixer-upper for $60,000 and dump another $60,000 in repairs and remodeling into what would become a mansion dream-home for less than $150,000. While those deals are increasingly harder to find, buyers now have the option of purchasing remodeled, ready-to-live-in colonials for $160,000. Fixer uppers still exist, but they're more on the fringes of town.
Before buying a home to remodel, buyers are wise to carefully study the city's building codes. The city is divided into three sections, with different building restrictions placed on buildings in different parts of the city. The town architect, who works out of the mayor's office next to the central park, must approve all building plans. Expect delays.

In Granada horse-drawn carriages are still used for transportation
Ask around town and talk to people who have gone through the remodeling process to find out where to get supplies, and what building contractors are reputable. Lots of foreigners have already gone through the process, so there is no reason to head into it blind. Learn from other's mistakes.
The influx of foreign capital has brought a dramatic improvement of restaurant, bar and hotel infrastructure. The city's oldest hotel on the Central Park, The Alhambra, recently underwent a stately restoration process in 2004. Nearby, the bright blue Colonial has become another mainstay, complete with tourism and rental car services. On the other side of the park, the elegant La Gran Francia is a beautifully resorted colonial building that was once home to U.S. filibuster William Walker in the 1850. Casa San Franciscoaround the corner from the like named Convent, is a comfortable bed and breakfast, complete with Mexican-fare restaurant. Dutch owned El Club, a restaurant/hotel/bar five blocks from the Central Park, has become Nicaragua's newest trendy hotspot on the weekends, drawing party crowds from Managua.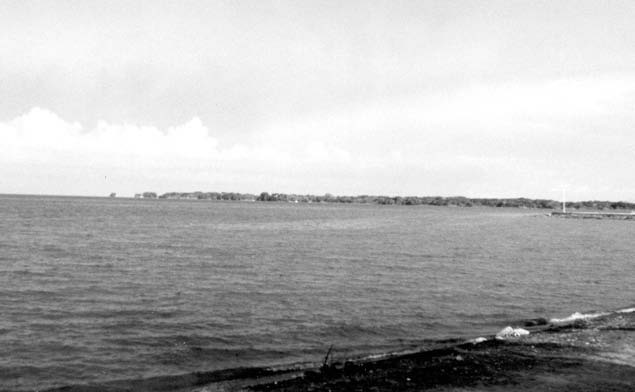 A view of Lake Nicaragua from Granada
Backpackers are welcome at Central, Oasis and the Bearded Monkey, both of which offer cheap lodging and eats.
Granada's big party night is Saturday, when drinkers old and young pack into El Club, La Fabrica and Café Nuit, all located within one block of each other.
The city's new mayor, Alvaro Chamorro, won the November 2004 municipal elections on the Sandinista Convergence ticket. But that shouldn't scare anyone. Chamorro is a lifelong Conservative who claims he is dedicated to attracting foreign investment and increasing tourism, which he has identified as the main priority for his government.
Among his first acts in office in 2005, Chamorro announced the creation of a new tourism police unit, and set his sights on building a new cultural center and massive tourism convention center in the city's old, abandoned hospital.
Granada is a combination of old world brick roads, colonial buildings, elaborate churches and conservative values, mixed with new world infrastructure and services. The city has modern day banking options, including BAC, the country's most secure and respected bank. Several Internet cafes are located around the park.
A rundown 1970s movie theatre, complete with broken chairs and bats that swoop before the screen, shows major U.S. releases (albeit months later) for $1. And the Tres Mundos cultural center near the park often has expositions of dance, theatre and art.
Down on Lake Nicaragua, 5 minutes from the Central Park, the rundown tourism strip has some dodgy late night discos that fill up on the weekend. Further down the road, boats and kayaks are for rent for people who want to explore the 360 islands known as Las Isletas that dot Lake Nicaragua. Nicaragua's well to do, who have built enormous weekend homes on the lake, have purchased many of the islands.
Nearby Granada, Laguna de Apoyo and Mombacho Volcano are becoming new hotspots for real estate investment by people who are looking for a slightly cooler climate.
Masaya (population 241,000), located 11 miles west of Granada, is the smallest and most-populated department in Nicaragua. Known as "cultural center of Nicaragua," the city is located on the edge of a crater lake, Laguna Masaya. On the opposite side looms the Masaya Volcano with a plume of steam spewing from its crater. The Masaya Volcano National Park is the most visited of all the country's parks, and is a perfect place for a day hike and crater-ridge photo opportunity.
The city touts a beautifully remodeled tourist artisan market, filled with stands displaying everything from leather goods to hammocks. The walled market is a great place to spend a couple hours shopping and stopping for a beer and some vigorón (a local yucca and pork rind dish).
Masaya is also home to Roberto Clemente Stadium, considered the coziest baseball stadium in Nicaragua. The park is home to San Fernando, Masaya's home team.
The city, founded in 1883, has long been a Sandinista stronghold, and was punished severely by Somoza's National Guard during the Revolution. An earthquake also struck the city more recently. Between the manmade and natural disasters, much of Masaya still has a bombed out, rundown feel.
Only a handful of foreigners call Masaya home.
León, a 1 hour drive north of Managua, is Nicaragua's second largest city (population 337,000). León was first founded the same year as Granada on the shores of Lake Managua. But in 1610, it was forced to relocate inland, following repeated earthquakes and eruptions from Momotombo Volcano.
León then served as Nicaragua's colonial capital city for more than 200 years, before the honor was passed to Managua in 1851. The colonial city is, in some considerations, the anti Granada, a city with which it has a century's old feud. While much of the architecture is similar to Granada, León historically is a more liberal, and educated city.
In León, the weather is hot, and so too is the political activism. The city is home to several universities, and always votes Sandinista.
The city's narrow, paved streets, adobe homes with their gardens, red-tiled roofs and weathered buildings have made the city's architecture its main attraction. The centerpiece of the León is an impressive Central Park, highlighted by the largest Cathedral in Central America.
One "can't-miss" attraction is the Museo Rubén Dario, the house where the country's most famous poet spent his childhood.
León also has beaches that draw university crowds on the weekends and vacations. Nearby rivers also offer a place to relax and pass the time fishing.
San Juan del Sur, located in a large curved bay, is Nicaragua's most popular beach town, with a booming real estate market. The town has hotels, good seafood, sportfishing and surfing. Check out both Marie's Bar and Restaurant and Richard's Bar and Restaurant.
Hotel options range from the expensive, Morgan's Rock, to less expensive hostel options. Midrange places, such as Pelican Eyes, are favorites among visitors.
Foreigners seeking the beach life are increasingly populating the beach town and the surround strips of white sand real estate.
South of San Juan del Sur, not far from the Costa Rican border, Playas Coco and Ostional are becoming popular new beach spots to get away from civilization and work on your tan. North of San Juan del Sur, Marsella, Majagual and Ocotal are popular sun and surf spots that are starting to be quietly developed with private beach homes and cozy lodging options.
In the department of Managua, about an hour from the capital, Montelimar and Pochomil offer several large, all inclusive resorts, including the venerable Spanish resort chain Barceló Montelimar, located on property that used to be former dictator Anastasio Somoza's beach home. Nearby Masachapa beach is not as nice or developed. Just south, the Tola area is a favorite for investors.
For those who don't like hot weather, Matagalpa (population 383,000) might be a better fit. Two hours from the capital, the city is located in the highlands of north central Nicaragua's coffee growing agricultural region. The climate is cool, but the infrastructure and consumer products are in short demand.
Estelí (population 175,000) is similar mountain town, with slightly more infrastructure and a pleasant Central Park. Estelí is cowboy country.
There is a lot of tobacco grown in the area that was the birthplace of the Sandinista insurgency. A Sandinista Martyrs and Heroes museum next to the fire station has a neat pictorial history of the revolution.
Several new hotels, such as Los Arcos, make Estelí a nice place to visit. Except for Peace Corp volunteers, not too many foreigners live here.
Nicaragua's Ometepe and Corn Islands are also showing potential as future real estate options, although currently most foreigners just visit these more remote areas, and aren't looking to buy.
Located in Lake Nicaragua, Ometepe is the world's largest island in a freshwater lake. The island is in the shape of a "figure 8," with two volcanoes on either end. Volcán Concepción, a 1,610 meter tall cone, is easily visible from the highway running from the Costa Rican border to Managua. Ometepe's other volcano, Volcán Madera, 1,310 meters, is a favorite spot for hiking. The Nicaraguan Tourism Institute strongly recommends that hikers hire a local guide and always stay on the path when hiking on Ometepe's volcanoes. In 2004, three tourists (U.S., British and Salvadoran) turned up dead after getting lost on their un-guided hikes up Maderas. Tourism has increased since, as curious backpackers now flock to the area the hikers went missing.
Ometepe, known as the "Oasis of Peace," has several nice beaches, including Playa Istian. Although tourism is growing quickly on the island, there aren't many nice places to stay on the island. The nicest hotel, far and away, is Hotel Villa Paraíso, and Finca Magdalena is another cozy bet.
Big Corn Island (population 10,000) and Little Corn Island (population 3,000) are also becoming new Caribbean tourist destinations, with two daily flights leaving Managua on La Costnea Airline (263-1228) for $110 roundtrip. Several budget hotels can be found on Big Corn, with has nice swimming and sunning beaches on Southwest Bay and Long Bay. But most tourists prefer the even more remote Little Corn, which is accessible by a water taxi that leaves from the North End of Big Corn everyday at 10 am. Little Corn has no vehicles, no police and very limited infrastructure. It is a good place to relax, and a bad place to get sick or into trouble.
Nicaragua quite obviously has many other interesting cities and towns to check out, including the northern agricultural and baseball breeding grounds of Chinandega, and the mystic Río San Juan, which is becoming a favorite spot for tarpin fishing. However, the places highlighted in this chapter are those with the most tourism and investment potential, as well as basic infrastructure and safety standards.
And while basic safety considerations and common sense applies everywhere in Nicaragua – as it does everywhere in the world – there are certain parts of the country that are more dicey than others. Rural interior sections of the country, such as El Rama, and the so-called "mining triangle" (Bonanza, Siuna and Rosita) are still very much wild-west towns that are not used to seeing tourists. Unless you have a reason to go there or really know what you are doing, you are advised to not wonder into these parts of the country just for the sake of exploring.