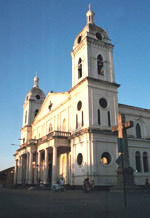 Founded in 1524 Granada is known as the Jewel of the Americas. It is strategically located on Lake Nicaragua and in the shadow of the Mombacho Cloud Forest National Park. 
Unlike other colonial cities in the Western Hemisphere it still remains untouched from the intrusions of modern architecture or way of life. Horse drawn carriage act as taxis, and people still sit in front of their homes in rocking chairs during the evening. 
Granada has been declared a World Heritage Site by the United Nations, and Villa El Martirio, is located in the historic part of Granada.